Alexis Machine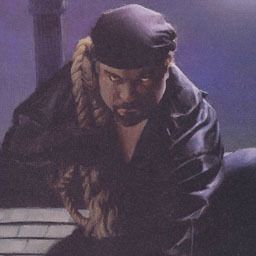 "I am more deadly than man."
Born: 1229 (Age 22)
Theme Song
Biography
Machine is a hired assassin that Tibles of the Blue Leaf Clan has been seeing in his dreams for a while now. Their psionic link started when Tibles looked into Kaldoran's Mirror and saw Machine murdering him in a wine cellar. Tibles knows for sure that Machine murdered the Duke of Northpost, as well as Kiana Alan's father, Thannis Alan.
Machine was hired by a faceless man to kill Tibles, and a cat-and-mouse game was played between the two for a time. Tibles went into hiding for several months, until information about Machine finally made itself available. He was hired by The Illusive Man (Coheed Jones) for Tibles' extermination.
In another vision, Tibles saw Machine getting hired by Belarin Vladislaus to exterminate one Alethia Allbright. With the help of the company, he was brought to justice. In truth, Machine had seen his own death at the hands of Tibles in Kaldoran's Mirror. He walked to his demise, believing the future to be set in stone. When Tibles revealed that the mirror foretold his demise at Machine's hands, he attempted to fight back.
Defeated by The Tiki Company, the only thing Tibles needed to do was end the assassin's life. He did it, slowly and painfully at the assassin's request. Kiana Alan now possesses the dagger that had been driven into Machine's heart.
page revision: 2, last edited:
09 Nov 2013 05:32